2015 Fanfest Weekend Tickets On Sale Now!

Tickets for this summer's Fanfest Weekend and Hall of Heroes dinner and awards ceremony are now on sale. Charlotte's Hilton University Place hotel will again host our yearly reunion, which will take place Thursday, July 30 thru Sunday, August 2, 2015.

The 2015 fest will be similar to previous fanfest weekends in some ways, but very different in others. Basically, every guest will be a vendor guest, and you have the option to choose from whom you'd like to purchase autographs and photo ops. There will be special guests (like Ric Flair, Sting, Arn Anderson & Dusty Rhodes from previous years,) and there will be vendor guests. This structure will allow us to reduce the price of admission while still providing an opportunity to meet more than 100 wrestling greats.

The reunion will feature the worldwide premiere of the Mid-Atlantic Memories film project on Thursday night, July 30. VIP "All Access" Passes include walking the red carpet for the movie premier, early admission to each day's fanfest activities, a Ringside seat for matches on Saturday night and Sunday afternoon, and exclusive daily Q&As throughout the weekend.

Daily General Admission tickets start at just $10.

Click here to buy tickets for our 2015 fanfest weekend...


Book Your Hotel Rooms Now!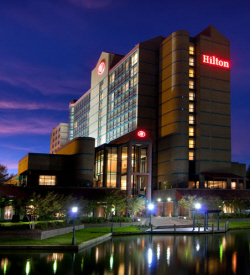 The Hilton University Place is the host hotel for this summer's Fanfest Weekend. The hotel is offering a discounted $97 group rate for those that book early.

Keep in mind, we will have a limited number of rooms at this discounted rate, so please make your room reservations as soon as you're certain of your travel plans. The discounted $97 group rate will be available until
July 19, or until the group block is sold out, whichever comes first.

If you're attending for the first time, you'll love your stay at the Hilton University Place. It's convenient, with easy access to Interstates 85, 485 and 77, and 15 minutes from Charlotte's Douglas International Airport.

Click here to book your hotel rooms now...


Get $20 When You Fly To Fanfest on Delta Airlines!



For those of you flying to/from Charlotte for Fanfest Weekend on Delta, Air France, KLM Royal Dutch Airlines or Alitalia, we'll give you a $20 credit voucher that you may use for free fanfest merchandise while you're here!

It's very simple! When you book your flight reservations online, make sure to enter our SkyBonus program code: US331078683 and it's as easy as that! If you make your reservations by phone or travel agent, you must make sure they have the same SkyBonus program code in your reservation in order for you to receive the $20 fanfest credit voucher.

Should you have any questions, please email NWALegends@aol.com


Fanfest Welcomes Vendors & Their Guests!

This summer's Fanfest Weekend will offer FOUR HUGE DAYS for vendors to sell their merchandise! Our vendor area will be open to the public from 12 Noon until 5 p.m. Thursday, 9 a.m. until 5 p.m. Friday and Saturday, and from 9 a.m. until 4 p.m. Sunday.

Deadline for vendor space is June 1, 2015.

Click here to confirm your vendor space now...