Quick Links:
Home | Buy Your Tickets Now | Book Your Hotel Rooms Now | 6:05 Film Project

Wrestling Guests & Vendors | Photo Ops | Hall of Heroes Dinner | Q&As | Matches

Tentative Schedule | Mailorder Autographed 8x10 Photos | 50% Off Autographed 8x10 Photos
Dusty Rhodes To Be Honored Next Week In Charlotte;
Magnum T.A. To Induct His Mentor Into Hall Of Heroes!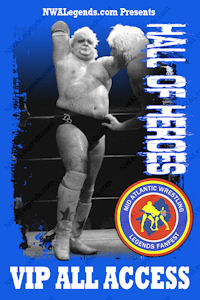 When Dusty Rhodes passed away a little over a year ago, he left behind an iconic legacy that will last forever. The "son of a plumber" from Austin, Texas, "The American Dream" was a world-traveler and a huge box office attraction everywhere he went. Next week in Charlotte, he will be inducted into the Hall of Heroes "Class of 2016."

Magnum T.A. will be on hand to posthumously honor his mentor, with Rhodes' wife and daughter here to participate as well.

The ninth annual Hall of Heroes dinner and awards ceremony Friday night, August 5, is part of the huge, 4-day NWALegends.com Fanfest Weekend at the beautiful lakeside Hilton University Place hotel August 4-7.

In additon to Rhodes, other members of the "Class of 2016" to be honored here include The Road Warriors and Paul Ellering, "The Perfect 10" Baby Doll, "Boogie Woogie Man" Jimmy Valiant, and the Mid-Atlantic Gateway Boys Dick Bourne and David Chappell.

"Hurricane" Shane Helms will host the awards ceremony. Many, many wrestling greats past, present and future will be seated among the fans - at least one wrestler per table - for an incredible buffet dinner, followed by the awards presentations. It's a remarkable experience!

These wrestling talents have confirmed their attendance at next week's dinner and awards ceremony:

"Hurricane" Shane Helms
Road Warrior Animal
Paul Ellering
Rachael Ellering
Jim Cornette
Magnum T.A.
"Boogie Woogie Man" Jimmy Valiant
"The Perfect 10" Baby Doll
Jim Ross
Ricochet
Tessa Blanchard
Paul Jones
Bob Caudle
Ole Anderson
Mike Jackson
"Fantastic" Bobby Fulton
Ricky Morton
George South
Don and Rocky Kernodle
Bill and Randy Mulkey
Bill Apter
Lady Blossom
Sunny
Tommy Rich
Ric McCord
Greg Valentine

And there will be other wrestling guests, as well.

Don't miss this incredible evening in Charlotte!